"Hell of the north" oder mit anderen Worten: Paris-Roubaix 2023.
Wir, ein paar Freunde und ich, haben Anfang des Jahres einen Kurzurlaub nach Lille, bei Roubaix geplant. Wir waren uns schnell einig, dass wir die Erfahrung über die Kopfsteinpflaster-Sektoren zu fahren, gerne gemeinsam machen möchten. Natürlich wussten wir nicht, auf was wir uns einlassen und haben es getreu dem Motto "Ach das wird schon, kann doch nicht so schlimm sein" unter den Tisch gekehrt.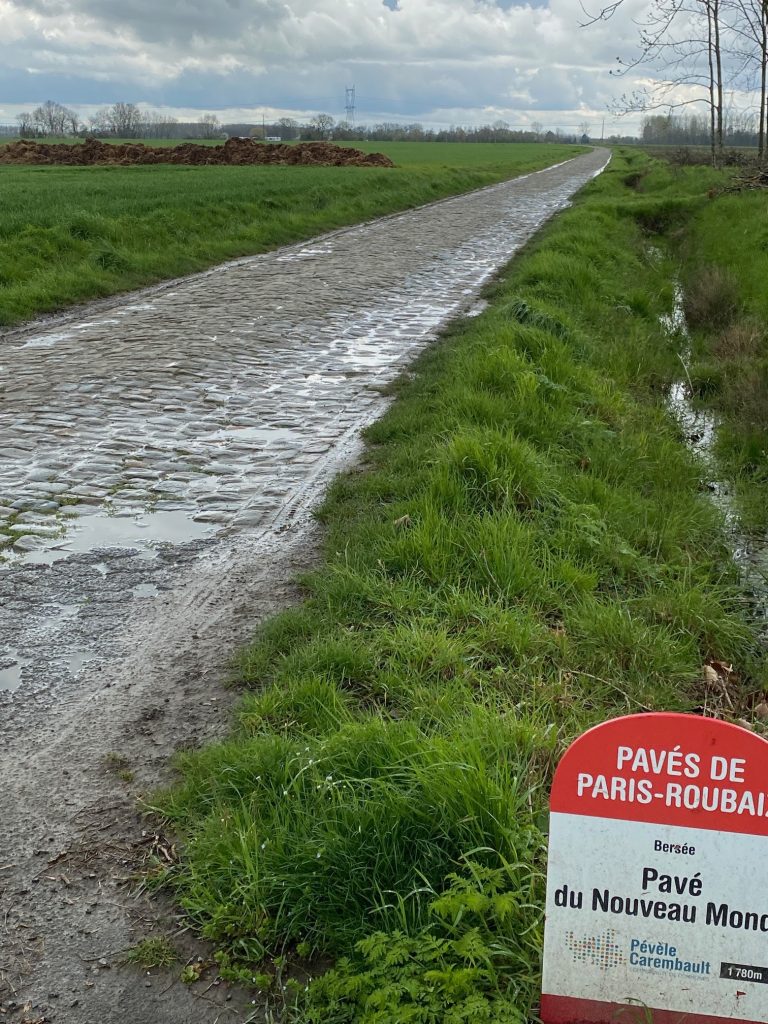 Bis zum besagten Wochenende begleiteten uns die Fragen, wie breit sollen die Reifen sein, Schlauch oder tubeless und wie viel Reifendruck ist wohl der Richtige. (Mein Setp-up: Continental Grand Prix STR5000 tubeless, 32mm, vorne 2,8bar; hinten 3,2 bar) – so oder so ähnlich haben wir es alle gemacht, aber das Wichtigste vorab, wir hatten keine Panne!
Hoch motiviert und doch mit großen Respekt vor dem, was uns am Tag der Ausfahrt erwarten würde haben wir geplant, an der Paris-Roubaix Challenge – mit 19 Pavé Sektoren – 145km teilzunehmen. Kürzere Strecke und weniger Kopfsteinpflaster-Sektoren als bei der Herren-Elite, aber dennoch völlig ausreichend. Vor allem weil die Wichtigen und harten Sektoren (5*), wie z.B. "Carrefour de l'Arbre" oder "Trouée d'Arenberg" dabei waren.
Wir starteten Samstagmorgen um 07 Uhr, und fuhren die ersten 50km recht zügig zum ersten Sektor. Im Anschluss folgte Sektor auf Sektor, mit nur wenigen kurzen asphaltierten Abschnitten dazwischen. Auf diesen musste man sich wirklich erholen, da man auf den Sektoren eher schneller als zu langsam drüberfahren sollte. Wie soll man es am besten erklären, die vergebenen Sterne der einzelnen Sektoren (maximal 5* = besonders schwer), geben an, wie hart ein Sektor ist. Einflussfaktoren sind Länge des Sektors und Gegebenheiten der Kopfsteinpflaster-Pfade. Teilweise grobe Steine, die in unregelmäßigen Abständen zueinander in den Boden gestampft wurden. Man wird durchgerüttelt, muss die Hände fest am Lenker halten und man merkt die Erschütterung am ganzen Körper.
Später und nach ca. 4.30 Stunden Fahrtzeit kamen wir völlig erschöpft und doch mit einem Gefühl des Glücks im legendären Velodrom zu Roubaix ins Ziel. Geile Erfahrung, endlich hat man es mal gemacht und weiß nun umso besser, was die Profis Jahr für Jahr durchmachen. Chapeau!